Treatment can be both acute, for example, if you can't even move or preventive, aimed at preventing issues and chronic problems.
Express therapy

It is designed for quick relief from pain after injuries and in acute cases. I can usually treat you within 48 hours after contacting me. Express therapy is focused on current struggles and then, if possible, it is likely to switch to longer-term and holistic regular therapy.
Preventive therapy

Includes a deeper look at the causes of the problem and patient diagnosis. A regular therapy plan is proposed along with an exercise program, including instructions. Preventive therapy requires the cooperation and willingness of the patient to perform regular exercises. Therapy helps to resolve all the context of the problem.
What are we dealing with?

Functional disorders of the musculoskeletal system caused as a result of poor posture, overload in sports, sedentary work and also structural damage to the body (degenerative conditions, after intervertebral disc herniation, after operations, fractures and other injuries). Neurological problems of the peripheral or central system (nerve oppression of various causes, RS, CMP and others). The goal is to find the most natural and effective way to solve your problems!
The price list of all services can be found here.
Methods and techniques
We are all original and we need a different approach, different pace and time limit to understand our own body and its needs. The goal of therapy is to work together to optimize the musculoskeletal system and your overall condition. I will evaluate your current condition and suggest a suitable reactive procedure. A description of each method is available here.
Funkční diagnostika nohy
Měkké a mobilizační techniky
Klappovo lezení
ACT: Akrální koaktivační terapie
Diagnostika a terapie funkčních poruch (Dr. Brugger)
DNS: Dynamická nervosvalová stabilizace (prof. Dr. Kolář)
Senzomotorická stimulace, cvičení na labilních plochách
Metoda Ludmily Mojžíšové
MFK diagnostika a terapie
Metoda Infinity
PNF Kabat: Proprioceptivní neuromuskulární facilitace
SM systém: Spirální stabilizace
KTM: Kinesiotaping
Vitality flossing
Lymfotaping a protiedémová terapie
Akupresura a reflexní terapie
First visit
Initial assessment

The therapy begins with an initial assessment of the functions of the musculoskeletal system, the so-called kinesiological analysis, during which I look for the root cause of the problem to choose the most appropriate procedure.
Previous examination

Part of the initial examination is an assessment of the ongoing method of treatment, so I ask clients to bring relevant examination results or X-rays.
Treatment procedure

I inform the client about the findings and explain the links between them and recommending treatment procedure.
Determination of treatment

The final form of therapy is determined in agreement with the patient and with regard to his individual possibilities.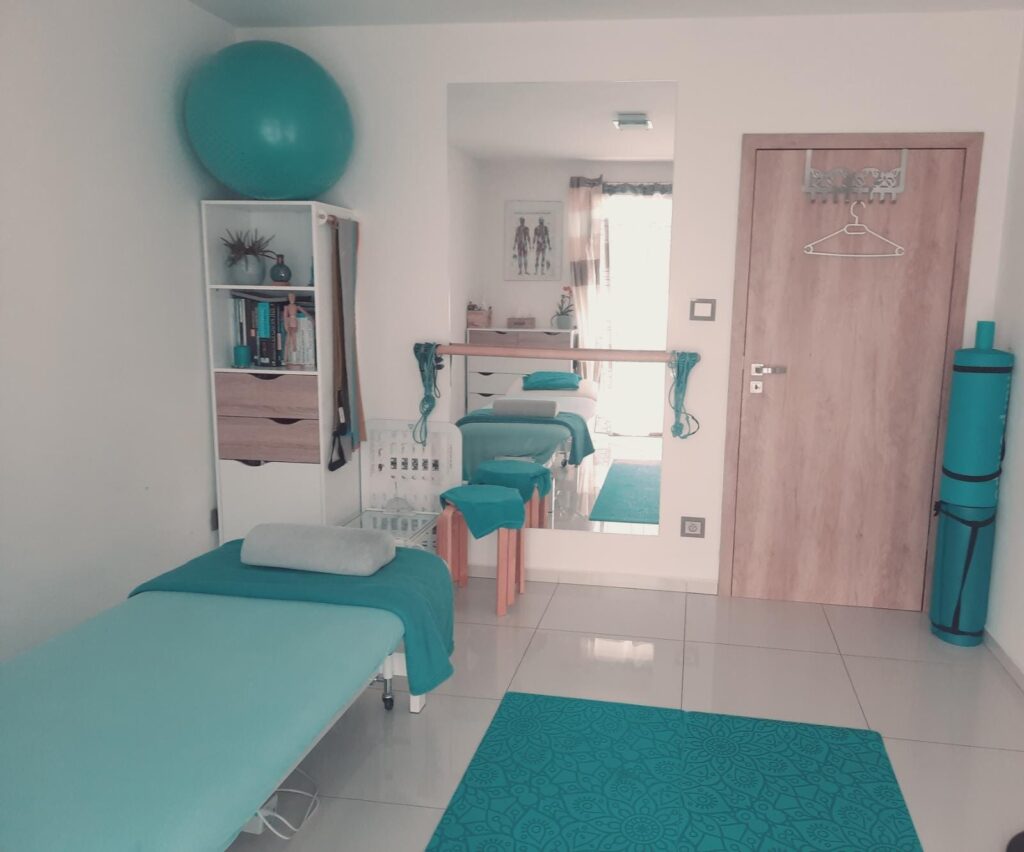 Courses and certificates
| Period | Course |
| --- | --- |
| 2022 – 2023 | Functional diagnosis of the foot, its active kinesiotherapy and individual correction |
| 2022 | Klapp method |
| 2020 | Proprioceptive neuromuscular facilitation |
| 2019 | Acral coactivation therapy |
| 2018 | Acupressure and pneumopuncture |
| 2018 | Podiatry and insole applications |
| 2018 | Vitality flossing |
| 2018 | Kinesiotaping USA |
| 2017 to 2018 | Spiral stabilization |
| 2017 | Infinity method |
| 2017 | Lymfotape |
| 2014 | Refreshment of manual medicine |
| 2013 | Kinesiotaping CZ |
| 2013 | Sensorimotor stimulation and stabilization of the locomotor system I. + II .; Diagnosis and therapy of functional disorders of the musculoskeletal system; Exercise on big balls |
| 2009 to 2011 | E – learning for physiotherapists |
| 2008 | Fetac Level 5 nursing care |
| 2008 | Comprehensive nursing care |
| 2008 | Vestibular rehabilitation |
| 2006 | Pilates exercises in physiotherapy |
| 2006 | Diagnosis and therapy of functional disorders of the musculoskeletal system (Mgr. Šárka Hanušová, PhD.) |
| 2004 | Complex therapy of the shoulder joint |
| 2003 | Mojžíšová method – Rib blockages |
| 2002 | Non-invasive laser therapy |
| 1999 to 2002 | Higher Vocational Medical School Dr. Ilona Mauritzová Field: Certified Physiotherapist |